Spring's Here! The Season's First Greenmarket Report
Finally!  The weather has turned gorgeous, and I'm returning to my warm-weather pursuits.  One of my favorite parts of summer is going to the Union Square Greenmarket and watching the different fruits and vegetables come in as the season goes on.  Eating strictly local and seasonal isn't always possible for those of us who live in city apartments, but I still like to take advantage of the best stuff in season while it's available.  If you have access to a farmer's market and enjoy cooking, there are few things more fun — come check out the season's best with me!
April is early days for New York, so as you might expect, the seasonal produce is still relatively limited.  The one thing that's available in great abundance, though, is spring flowers.  The Greenmarket this week is full of bunches of tulips, daffodils, and hyacinths (LOVE hyacinths), and great buckets of blossoming branches: forsythia, peach blossoms, lilacs, you name it.  It's also full of flats of annuals ready to be planted for those lucky enough to have a little green space or access to a community garden. Here are a few shots of the Greenmarket from this week: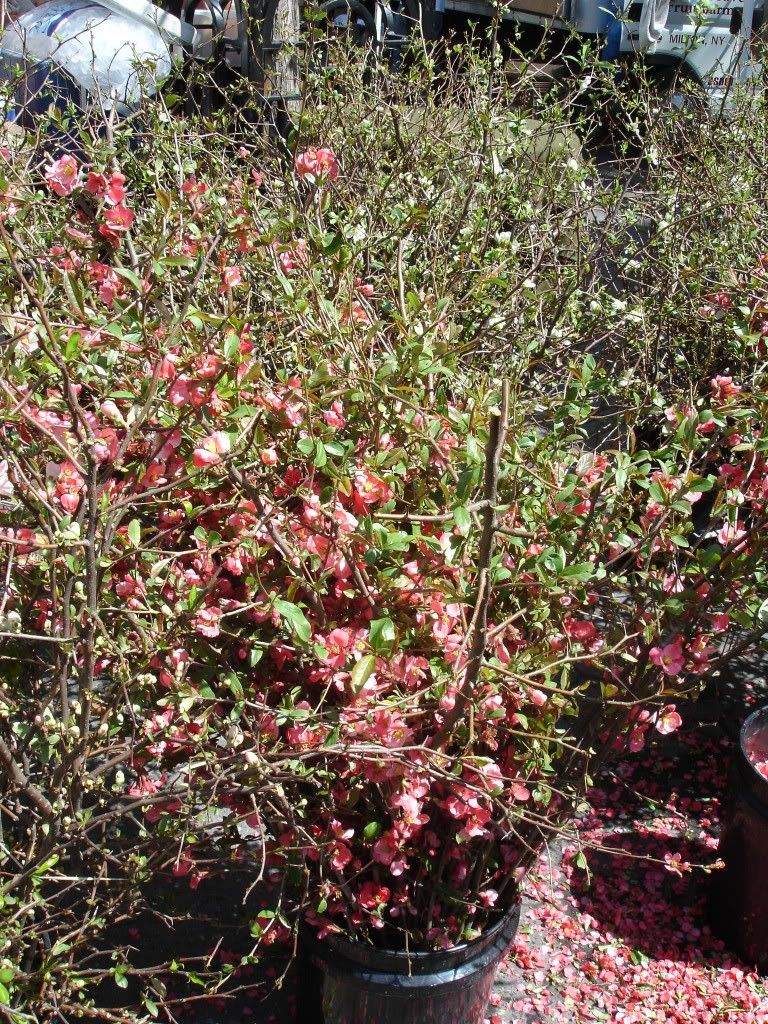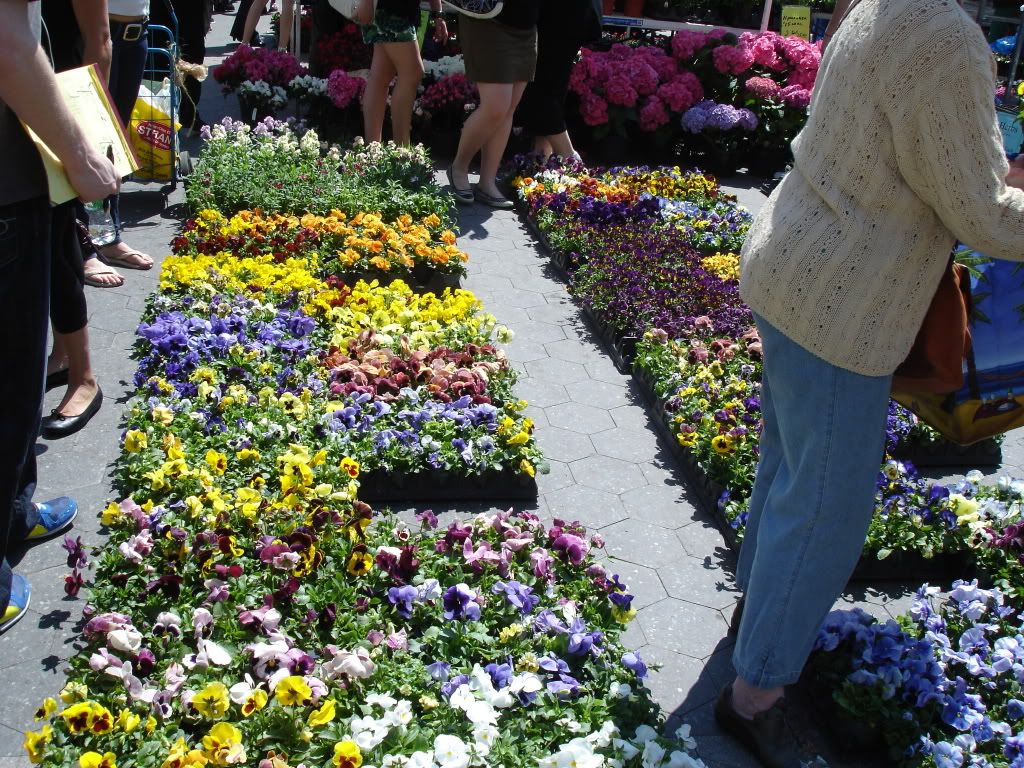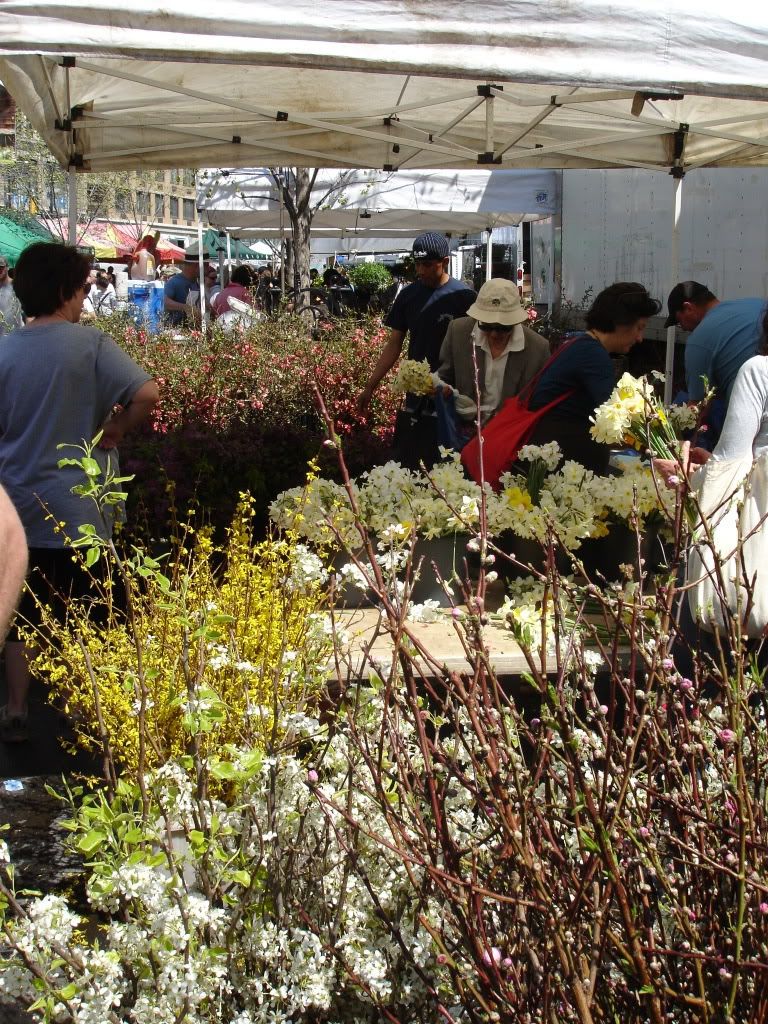 In addition to the flowers and all the great stuff that's at the market year-round (fresh eggs, goat cheese, fish…), there are a few of the spring's first produce offerings available.  I myself picked up some ramps: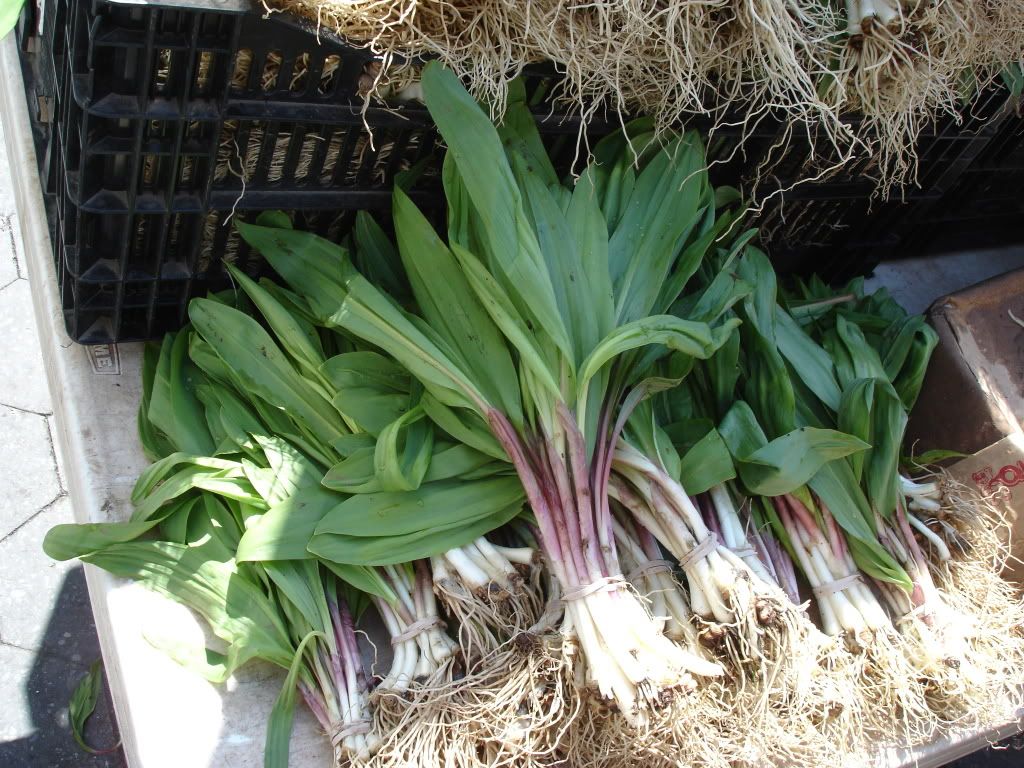 Ramps are a member of the onion and garlic family that are only available for a few weeks in the spring.  They're also called wild leeks, although they have less sweetness than an actual leek and a distinct garlicky zip.  Ramps are powerfully aromatic — I was surprised by how strongly my one bunch scented my apartment as they cooked. I went traditional and fried them up with diced potatoes in some bacon fat, but the woman who sold them to me suggested sauteeing them and serving them over pasta with some Parmesan, which I'm sure would be terrific.
Also on offer this week is green garlic:
For those who haven't encountered it before, green garlic is just the young garlic plant before it's grown up and gotten its teeth.  It has a much milder flavor than regular garlic, and can be used in any recipe that calls for garlic in addition to use    Like ramps, it's only available for a few weeks, as it doesn't like the heat, and is eaten leaves and all.  I haven't picked any up yet, but I've seen recipes for crushing it and making it into an aioli or pesto that I think I'm going to have to try.
For those in New York, if you haven't checked out the Union Square Greenmarket yet, it's open Mondays, Wednesdays, Fridays, and Saturdays (Saturdays are the big day) and is well worth a visit.  I can't wait for the strawberries!